---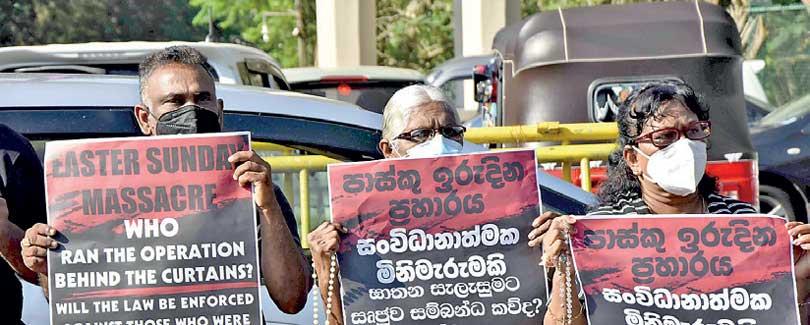 Catholic devotees of Ragama Basilica staging a demonstration yesterday to mark the 'Black Sunday' over the Easter Sunday attacks. Pic by Nimalsiri Edirisinghe
Says also essential to carry out further investigations to determine who facilitated the attackers
By Yohan Perera
Recommendations made by the Presidential Commission, which probed the Easter Sunday attacks should be implemented soon while more investigations should be carried out to determine as to who organised and facilitated the attacks, Archbishop of Colombo Cardinal Malcolm Ranjith said yesterday.
Cardinal Ranjith who was speaking to the media after participating in the Black Sunday protest at St. Sebastian's Church Katuwapitiya said the government should immediately implement the recommendations made by the Presidential commission.
"The Commission had recommended action against certain people and this action should be taken without delay," Cardinal Ranjith said.

"It is also essential to carry out further investigations to determine who facilitated the attackers and who got them to carry out the Easter Sunday attacks," he added.

"We hope to see practical steps in this regard by April 21 this year," he also said.

"Pope Francis is currently touring Iraq and had discussions with Muslim leaders of that country. Therefore, global religious leaders are working towards bringing about religious unity. Sri Lanka should also follow and bring about religious unity," he stressed.

Cardinal thanked everyone who worked towards making yesterday's Black Sunday a success including the Buddhist monks and members of Muslim communities.