---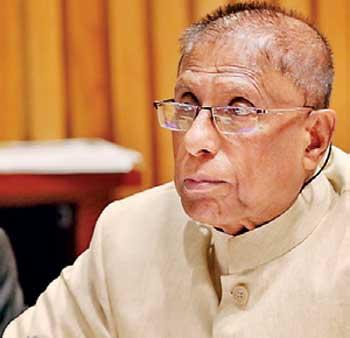 By Yoshitha Perera
As previous head of the Mahapola Trust Fund (MTF) Former Chief Justice (CJ) K. Sripavan did not oppose when signing two illegal agreements signed between MTF and Sri Lanka Institute of Information Technology (SLIIT) which enabled to transfer the SLIIT into a private entity, Minister of Buddhasasana and Wayamba Development Gamini Jayawickrama Perera informed the Presidential Commission yesterday.
As then Minister who handled the MTF, Mr. Perera said that he was unaware about any conditions stated in two agreements and he could recollect that there was no occasion that former CJ resisted the agreements. He also said that he has not read the agreements between MTF and SLIIT.

"Although I am the Head of the MTF, I just went to the board meetings and sat there like a dummy. It was then Chief Justice and Head of the MTF, Justice K. Sripavan who led the proceedings," he said. However, former CJ informed the Commission last week that there were no discussions in the meetings which were held with the MTF Board of Directors about signing these two agreements. He also said that when two ministers, Gamini Jayawickrama Perera and Sarath Amunugama came to see him at the Supreme Court, he was opposed to those agreements.

"I didn't read the agreement and I signed this as a witness because I thought Justice Sripavan had approved this. He is a well known legal expert. When the agreement was signed, the former CJ was there. He was all smiles and accepted a cheque by SLIIT. If he told me this was illegal, I would have stopped the agreement, "Mr. Perera informed the Commission.
Then Chairman of the PCoI, retired Supreme Court Judge, Upali Abeyrathne asked whether Perera is not responsible for the Trust as the head of the Mahapola Trust.
"I certainly have a responsibility. But I also had great faith on Justice Sripavan. And I thought he had approved this."

Auditor General has, in his report on the MTF, said that due to the new agreement, the Trust lost Rs. 120.99 million between May 2015 and December 2017. The 2005 agreement said SLIIT would pay MTF either Rs. 8 million or 20% of the net profit, whichever was greater. In 2015, the MTF changed the agreement to fix the returns at Rs. 20 million per annum.