---
By K.G. Karunarathna
President Maithripala Sirisena said that the Provincial Council election would be held definitely before the Presidential election.
Addressing a meeting that was held under the re-organization programme of the Sri Lanka Freedom Party (SLFP) in Polonnaruwa New Town on Saturday (9), he said that the constitutional issues and the legal background, in this regard, would be solved.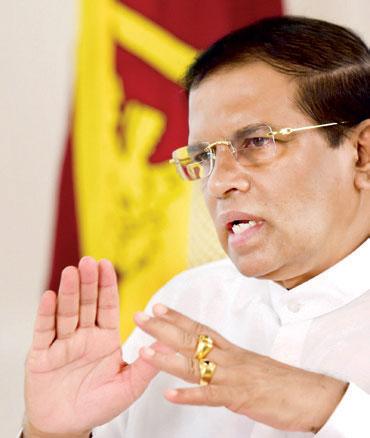 He emphasized the fact that SLFP would aim at the Provincial Council election through this re-organization programme. "It was published in the newspapers daily for the last two months that my friend the United National Party (UNP), Ministers and Parliamentarians have said that it was the Presidential Election that would be held. They requested a Presidential Election to be held. It would be held after the relevant time period. It cannot be prevented by anyone. Nobody can hold a Presidential election by force. Even the parliament cannot order to do so ; It is I who can do so"

He said further that even the judiciary could not do so and that it was mentioned in the Constitution clearly that it is only the President who can issue the gazette if a presidential election is to be held.

According to him, this year is a year in which a new government is to be established and its main factor depends on the SLFP.
SLFP Senior Deputy Chairman Nimal Siripala de Silva, SLFP General Secretary Dayasiri Jayasekera and the North Western Governor Peshala Jayaratna spoke at this meeting.