---
We joined the OPPP as we could not register the Wijayadharani National Council as a political party to contest the election
I did not request for the seat. I have no objection to Gnanasara thera being appointed to the post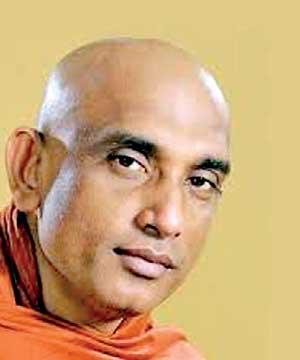 By Ajith Siriwardana
While claiming that the issues revolving around the National List slot of the Our Power of Peoples Party (OPPP) could be resolved only through a judicial process, former MP Ven. Athuraliye Rathana Thera said yesterday the name of the OPPP national list nominee should be named only with his approval according to the MoU signed with the OPPP.
Ven. Rathana Thera told a news conference that according to the Memorandum of Understanding (MoU) signed between the OPPP and Wijayadharani National Council, the first National Seat of the OPPP should be named by him representing the Wijayadharani National Council while the name for the second seat should be named by the OPPP.
"We joined the OPPP as we could not register the Wijayadharani National Council as a political party to contest the election. Ven. Wedinigama Wimalarathana Thera invited us to join the OPPP and assured to take the responsibility. I insisted that we need the post of general secretary. He assured that there will be no issues and vowed to take the responsibility and retained the general secretary post. We trusted him as I personally knew him," the Thera said. Ven. Rathana Thera said however, Wijayadharani National Council entered into a MoU with the OPPP on certain matters. "We signed a legal agreement with the OPPP according to which the name for the first National List slot should be named by me. The second name should be named by the OPPP and the third again by me. The OPPP is legally bound not to interfere in any matter. This issue should be resolved through discussion, "he said and added that he had sent two letters to the Elections Commission clarifying the matter.

"Ven. Wimalarathana Thera has named himself illegally without any discussion with us. He is evading us now. He promised to name me and Ven. Galagodaatte Gnanasara Thera to the national list slot. Now, he is claiming to go to parliament for a year. He should come for a discussion to resolve this matter," he said.

Ven. Rathana Thera said Gnanasara Thera cannot be appointed as an MP straightaway due to a legal barrier and added that someone should be first sworn in as a MP and then resigned so that the Gnanasara Thera could be appointed. He said someone who was honest and could develop this national force should be appointed to the seat and added that the nominee should be someone who could not be bought over.

"I am an experienced politician who is aware of international political situations and educational expert," he said.

When asked if Ven. Rathana thera requested for the national list seat, the Thera said he only told Ven. Gnanasara Thera that he could use his political experience if he was elected.
"I did not request for the seat. I have no objection to Gnanasara thera being appointed to the post," he said.