---
Unguarded railway crossing in Kopparawatta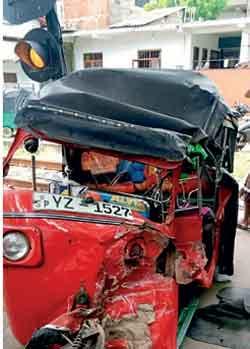 By Krishan Jeewaka Jayaruk
A 78-year-old woman died and three others were seriously injured when a trishaw transporting them bumped against the Beliatta bound express from Colombo at the unguarded railway crossing in Kopparawatta. The deceased, Madawala Gamage Karunawathi was a resident of Parawahera in Kekanaduwa.
The injured were the deceased's daughter-in-law, her 13-year-old granddaughter and the trishaw driver, who were admitted to the Matara General Hospital. They were on their way to a temple in Weheragampita area to offer alms when they met with the accident.

HQI Matara Police IP Dhammika Amarasena is conducting further investigations on the instructions of SP Susil Wijegunawardene.
They were on their way to a temple in Weheragampita area to offer alms when they met with the accident