---
The Central Bank has observed that there is a large number of expatriate Sri Lankans who have foreign currency savings in their respective countries they are employed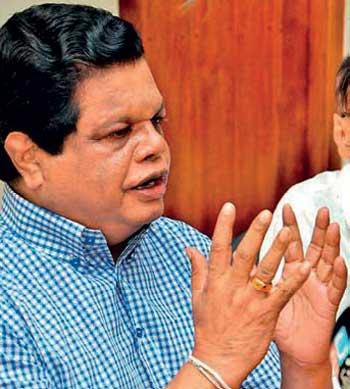 By Sandun A Jayasekera
Cabinet spokesman and Minister Bandula Gunawardana yesterday said Sri Lankans maintaining accounts in a foreign country, expatriate Sri Lankans and local or foreign investors could deposit any amount of foreign currencies including 'Black Money' in the Special Deposit Account (SDA) in any approved commercial bank in Sri Lanka.
By doing so, they could collect an extra interest of 2% per annum once they withdraw or transfer the fixed account after a minimum of six months, he said. Addressing the weekly cabinet news briefing, Minister Gunawardana said no questions would be asked or tax charged from the account holder and the account will be free of foreign exchange regulations and added for instance if the normal interest rate is 4% for a foreign currency account, 6% would be paid for the SDA, Minister Gunawardana stressed.
It is a fixed deposit for a minimum of six months and deposits can be made in any designated foreign currency like US Dollar, Australian Dollar, Sterling Pound, Canadian Dollar, Renminbi (Chinese Yuan) Euro, Hong Kong Dollar, Japanese Yen and Swiss Franc. The CB guarantees that foreign currency deposits into the Sri Lankan banking system will be accepted without any hindrance from the Government, the Central Bank or any other Government authority while guaranteeing the future convertibility of these deposits into foreign currency whenever the depositor desires to do so. All forex remittances will be exempted from exchange control regulations and taxes and protected under banking secrecy provisions.

All the regulations related to the new account have been incorporated in the Extraordinary Gazette notification issued by the Ministry of Finance, Economic and Policy Development. The notification announces that all interested Sri Lankans and well-wishers accordingly can instruct their foreign banks to transfer their funds to Sri Lanka. There is no prescribed minimum amount to be deposited. The minimum period of maturity is six (06) months. Higher interest rates than the normal rates offered to foreign currency deposits will be offered at maturity. Accordingly, 1 percent and 2 percent points per annum for SDA with tenure of 6 months and 12 months respectively will be paid. Funds are freely taken away outside Sri Lanka on maturity.

All these accounts are free from taxes and all such deposits shall be protected under banking secrecy provision and further benefits with the relevant supporting legislation will be introduced with the 2020 Budget.
Acceptable currencies are United States Dollars (USD), Euros, Sterling Pounds, Australian Dollars, Singapore Dollars, Swedish Kroner, Swiss Franc, Canadian Dollars, Hong Kong Dollars, Japanese Yen, Danish Kroner, Norwegian Kroner, Chinese Renminbi and New Zealand Dollars. "The Central Bank has observed that there is a large number of expatriate Sri Lankans who have foreign currency savings in their respective countries they are employed. With the extra 2%, Sri Lanka pays one of the highest interest rates for foreign currency saving accounts. Therefore, foreign investors also can bring their investments to Sri Lanka and earn a hefty income," Minister Gunawardana said.
They could collect an extra interest of 2% per annum