---
All first and second contacts of the patients at Kandakadu cluster were identified and no need to panic over the virus spreading in the society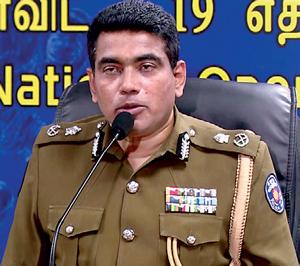 By Ajith Siriwardana
Health authorities or Intelligence Services had not received any information that a third contact of the COVID-19 infected patients of the Kandakadu cluster had contracted the virus, DIG Ajith Rohana said yesterday.
He told a news conference that all the first and second contacts of the patients at the Kandakadu cluster had been identified and that there was no need to have unnecessary fear or panic over a second wave.

He said only 20 patients had been identified outside the Kandakadu Drug Rehabilitation centre and that 16 of them were identified from Rajangana.

"These 16 patients are close contacts of the infected army officer who had gone on leave from the Kandakadu Drug Rehabilitation Centre. Only four patients are reported from other parts of the country," he said.

DIG Rohana said 32 clusters have been identified in the country so far where the biggest cluster was reported from the Navy Camp in Welisara, which was successfully controlled and added that the health authorities and intelligence services are taking steps to control this cluster as well.

"Nine-hundred and fifty patients of the navy cluster (31st cluster) have been reduced to eight patients by now. In the Kandakadu cluster (32nd cluster), 444 inmates out of 831 and 63 staff members out of 320 have been infected the virus while 20 close associates of them have been identified as infected patients. We have identified the first and second circles of the patients from the Kandakadu cluster. People should not panic over a second wave but they should strictly adhere to health guidelines," he said.

The DIG said strict action would be taken those who spread rumours on the COVID-19 situation in the country under quarantine regulations and criminal law.

"We have received information that organized groups and individuals are engaged in spreading rumours on social media and websites striking fear among the people over the COVID-19 situation. We have identified three incidents where such rumours have been spread. One newspaper had reported yesterday that about 661 people from Kandy had been sent for quarantine, which was totally wrong. Social media had circulated a map of the country which had indicated places throughout the country where COVID-19 had spread. This map is reported to have been issued by a private firm indicating their branches and updating the staff on COVID-19 situation. Another incident was reported where the list of visitors to the Kandakadu Drug Rehabilitation Centre was shared as infected persons. We have appointed three CID teams comprising of 26 personnel to investigate into these three incidents," he said.