---
Sri Lanka should not take for granted the process of administering the vaccine to the people as it was a complex process which needs proper planning and organising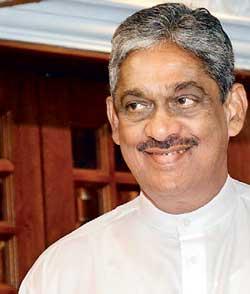 By Ajith Siriwardana and Yohan Perera
The Government had not made any allocations in the budget for the vaccine for COVID-19 which was scheduled to be released shortly by the World Health Organisation (WHO), Field Marshal Sarath Fonseka told Parliament yesterday.
He said the United States had already made arrangements to use the vaccine in USA as and when it is available.
"The USA has appointed a team headed by an Army General to prepare for the situation to administer the vaccine. They have even assigned helicopters and institutions to distribute the vaccine. The USA has allocated US Dollars 26 billion for the process. We also need to allocate at least US Dollars one billion (Rs. 180 billion) for the process. However, we have allocated only Rs. 16 billion in the budget for combating the Corona epidemic. It means that we have totally ignored this issue," he said.

Mr. Fonseka said Sri Lanka should not take for granted the process of administering the vaccine to the people as it was a complex process which needs proper planning and organising.

Speaking at the budget debate he said the Government was attempting to hoodwink the people by showing inaccurate statistics in the budget.

"The Government has estimated state revenue for the first seven months as Rs.763 billion. However, the State revenue by the end of 2020 is at Rs. 1,588 billion. This is not practical," he said.
The United States had already made arrangements to use the vaccine in USA as and when it is available