---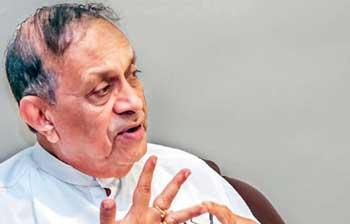 By Yohan Perera
Speaker Karu Jayasuriya said yesterday he was prepared to call a meeting of all political party leaders in Parliament to decide on the next course of action on conceding the government to the newly-elected President this week.
In a statement issued from his office, the Speaker said the Prime Minister, Leader of Opposition and several parliamentarians from other parties had already discussed this matter.
"It was decided to take whatever steps necessary based on the people's mandate at Saturday's presidential election. However, the focus was on three options, that of dissolving Parliament on March 1, 2020 and go for an election, dissolve Parliament through a resolution passed by a two-thirds majority or to concede the current government immediately and allow the new President to form a new government.

"Speaker is to convene a party leader's meeting no sooner he is informed by the Prime Minister and Opposition Leader on the next course of action."
It was decided to take whatever steps necessary based on the people's mandate at Saturday's presidential election