---
Consumers will have to pay tariff for March, April and May similar to that of February bill
Consumers will be given two months to settle March, April and May bills under new package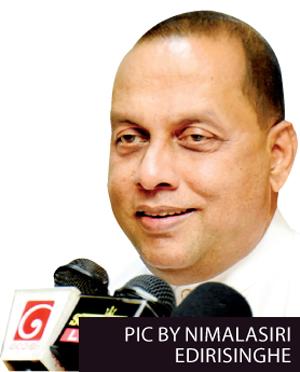 By Sandun A. Jayasekera
Electricity consumers will have to pay tariff for March, April and May similar to that of the February electricity bill or a lesser tariff, if the bill indicates so in the three months after February, Power, Energy and Transport Minister Mahinda Amaraweera said yesterday.
Announcing the newly-formulated relief package for electricity consumers worked out by the Power and Energy Ministry, Minister Amaraweera told the media that for example, if the February bill was Rs. 2,000 and March bill Rs. was Rs. 4,000, the consumer will have to pay only Rs. 2,000. Similarly, if the March bill was Rs. 1,000, the consumer has to pay only Rs. 1,000.

Minister Amaraweera said the cost to the CEB to grant this relief package to consumers for three months was Rs. 3 billion.

"We have decided to offer this relief considering the hardships faced by the people in the aftermath of the Covid 19 pandemic. Gotabaya Rajapaksa's government is much concerned about the loss of income, loss of livelihood, sharp increase of power consumption as people remained home on the request of the government and curfew imposed. All these developments contributed to the increased power consumption and thereby increased the electricity bill.
The Government is concerned about the loss of income and the loss of livelihoods