---
Schools closed in Kalmunai
Cases identified after random PCR , Rapid Antigen testing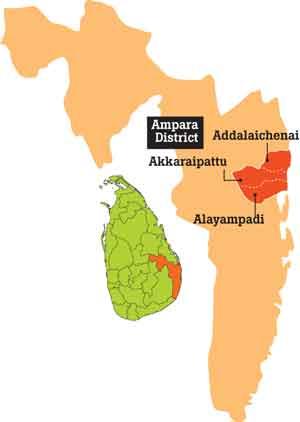 By Kelum Bandara
Fresh COVID-19 patients have been identified from the Eastern Province leading to isolation of three divisions of the Ampara District and closure of schools in the Kalmunai Zone of education.
The new development had sparked fear whether the disease would spread to other parts of the province
Three areas in the Ampara District of the Eastern Province namely Addalaichenai, Akkaraipattu and Alayampadi- were isolated following the discovery of COVID-19 patients after random PCR and Rapid Antigen testing were conducted on 20 people, Eastern Province Governor Anuradha Yahampath said.

Ms. Yahampath told Daily Mirror that the schools in the Kalmunai Zone of education were also closed as a precautionary measure

She said all those isolated areas fell within the Kalmunai Zone of education, and therefore schools were closed to prevent further spreading of the disease.

"There are 65 schools in the Kalmunai area and 72 in Akkaraipattu," she said.

The Governor said 20 people were PCR tested on Wednesday and ten of them were found to be infected with the virus. Besides, Rapid Antigen Testing was done on 137 randomly selected individuals yesterday and 21 of them had tested positive.

When asked whether people in other parts of the Eastern Province would be subjected to testing, she said it would depend on the results of present testing being carried out in the high risk areas. She said that she had even instructed the security authorities to restrict public movements even in the nearby areas of Sainthamarudu.
Responding to a query about the point of origin of the cases, she said, "We are yet to establish it and possibly, it may be from the fishing community cluster".
20 people were PCR tested on Wednesday and ten of them were found to be infected with the virus