---
I request the government to close all liquor shops in vulnerable areas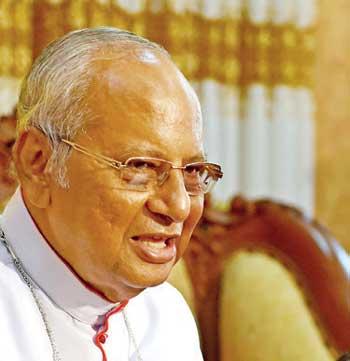 By Yohan Perera
The Archbishop of Colombo Cardinal Malcolm Ranjith said yesterday the clash in Negombo last Sunday was the work of several outsiders who had entered Negombo to create unrest between the Sinhalese and the Muslims.
Cardinal Ranjith told a press conference held yesterday that the said outsiders inebriated the residents in the area and provoked them into violence.

"I request the government to close all liquor shops in vulnerable areas. These forces are trying to create unrest in Sri Lanka to pave the way for external interference. Some forces are trying to provoke people and create religious unrest. The clash in Negombo is a perfect example for this. Those who are behind it are outsiders. They are attempting to create unrest among the Sinhalese and the Muslims. I ask all Catholics not to raise their arms against Muslims as they are not behind these destructive efforts. It had been done by a group of individuals who had gone astray. They are backed by some international forces. We don't have to harm innocent Muslims because of this group," he said.

Cardinal Ranjith said no one should jump into conclusions without knowing the real facts. He said some were using social media to mislead people.

"People supported the police and the security forces to carry out search operations since the Easter Sunday tragedy. We appreciate the patience of the people," Cardinal Ranjith said while appealing to the Buddhists, Muslims and Hindus not to get agitated but to help maintain peace in the country.
Requests Catholics to live according to teachings of Jesus

"I appeal to them to continue to support the security forces. I request the Catholics to live according to the teachings of Jesus and pray for the country. At a time when people are living with uncertainty, we should realise that those who take up arms will die from the destruction caused by them," he said.

Cardinal Ranjith said some individuals were trying to associate him with certain politicians and parties. He said he had been accused of attempting to gain publicity by holding media conferences. "My only leader is Jesus. I have performed my duty as a religious leader to calm the people in the country after the Easter Sunday attacks," he said.

Pic by Nisal Baduge