---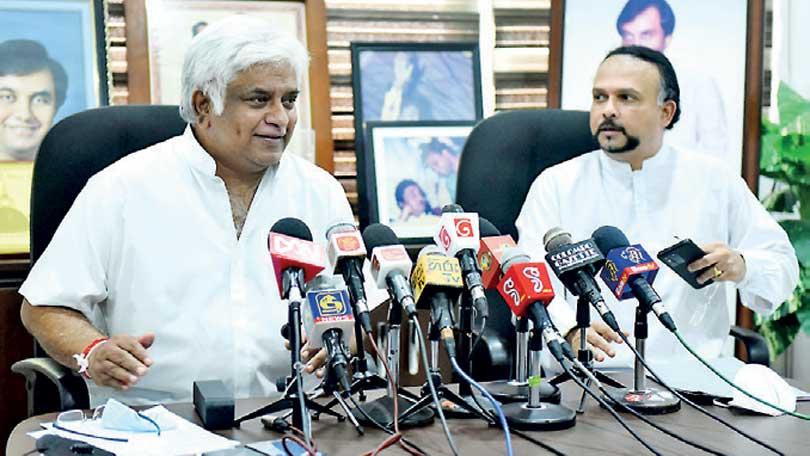 It has been proved that no party can be a duplicate of the UNP
Arjuna says will decide on his political fate later
We suggested certain names for some positions but another was given party positions
By Yohan Perera
UNP's former National Organiser Navin Dissanayake and former Minister Arjuna Ranatunga yesterday called for a leadership change in the party and for a merger of the grand old party with the Samagi Jana Balawegaya.
Both Mr. Dissanayake and Mr. Ranatunga made this call at a joint media conference where they decided not to accept positions in the UNP calling the recent reforms far from being effective.

"We suggested certain names for some positions but another was given party positions," Mr. Dissanayake claimed adding that they would continue the struggle.

Asked whom they would propose as the party leader, he said there were a few names which they have thought of. "There was a proposal among the working committee members that former Speaker Karu Jayasuriya should be appointed leader," he said.

Mr. Jayasuriya is the father-in-law of Mr. Dissanayake. Mr. Dissanayake also said it was not possible to form a duplicate UNP.
"If the Samagi Jana Balawegaya thinks it can become a duplicate UNP it is a mistake. Even my late father Gamini Dissanayake and Lalith Athulathmudai thought DUNF was a duplicate of the UNP but my father had to return to the UNP fold in the end," he added.

"We believe that all opposition parties and like- minded people should come together," he said.

Mr. Ranatunga said he would decide on his political fate later. "I don't believe in party politics but in policy-based politics. I am a person who has left several parties whenever I thought the leader of the political parties I belong to were not effective. Therefore I will decide on my fate in the future," he said.

Both former Ministers said their focus was to attract the two million UNPers who did not vote for either the elephant or the telephone at the last general election.
Believe that all opposition parties and like- minded people should come together