---
Party seniors had signed a letter, requesting Mr. Wickremesinghe to take up the seat
Mr. Ruwan Wijewardena was likely to be appointed to the post of leadership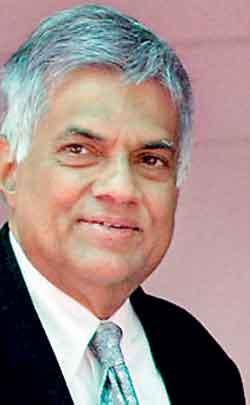 By Jamila Husain
Leader of the United National Party, Ranil Wickremesinghe has turned down a request by party seniors to take up the national list seat in Parliament, stating it should be given to a younger member of the party, the Daily Mirror learns.
In a meeting held in Sirikotha yesterday, party seniors had signed a letter, requesting Mr. Wickremesinghe to take up the seat, but the UNP Leader had declined it saying it should be given to a younger member.
He further said if the party sought to reform itself, they should seek a member from the national list slot to represent the party in Parliament while all other members should look at restructuring the party at the
ground level.

Sources said that several UNP members had however thought that Mr. Wickremesinghe is the best option to take up the seat, based on his seniority and experience. A decision on who will take up the seat will be reached soon,
sources said. Sources further said that Mr. Wickremesinghe was ready to step down from the party leadership in December and a new leader would be appointed by January. Many seniors said that Mr. Ruwan Wijewardena was likely to be appointed to the post of leadership.
Several UNP members had however thought that Mr. Wickremesinghe is the best option to take up the seat, based on his seniority and experience