---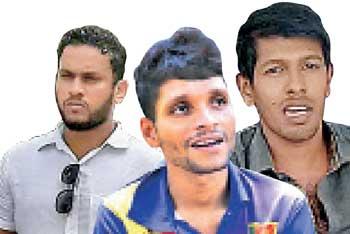 Namal Kumara and Amith Weerasinghe – two of the three local organisation heads who were arrested on suspicion of breaching religious harmony – were further detained while the third, Dan Priyasad, was released on bail by the Colombo Additional Magistrate yesterday.
Mahasohon Balakaya leader Amith Weerasinghe was remanded till May 28 by Colombo Additional Magistrate Shalani Perera yesterday. He was arrested on Monday at his residence in Teldeniya on the charges of breaching religious reconciliation and public peace.

Nawa Sinhale National Organisation Director Dan Priyasad was released on two sureties of Rs.500,000 each by Colombo Additional Magistrate Priyantha Liyanage yesterday. He was arrested by the Colombo Crime Division (CCD) on Tuesday over his alleged involvement in the recent acts of violence. Priyasad was also ordered to appear in CCD between 9.00 a.m. to 12.00 noon each Sunday. Meanwhile, Anti-Corruption Front Convener Namal Kumara has been handed over to the Criminal Investigation Department (CID) for inquiry.