---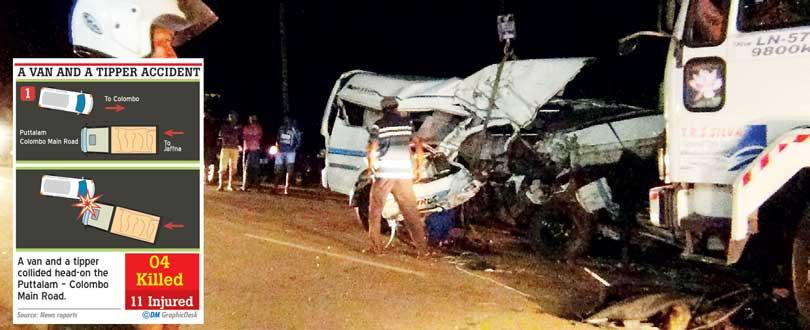 By Darshana Sanjeewa and Hiran Priyankara
Four persons were killed and another eleven injured when a van and a tipper collided head-on at Nagavilluwa on the Puttalam-Colombo main road last morning, police said.
They said the van was travelling from Jaffna to Colombo and the tipper had come from the opposite direction.

Police said the driver, five men, three women and a 10-year-old girl had been in the van at the time of the accident. A lorry driver who was in the vicinity was also injured in the accident.
The lorry driver and three women including a pregnant woman in the van succumbed to injuries after admission to the Puttalam Hospital. The deceased were identified as residents of Jaffna, Manipay and Vavuniya.

Four persons who were among the injured were later transferred to the Colombo National Hospital.

The driver of the tipper has been arrested.