---
Number of COVID-19 patients rose to 146 yesterday with the largest number detection of 21 victims in a single day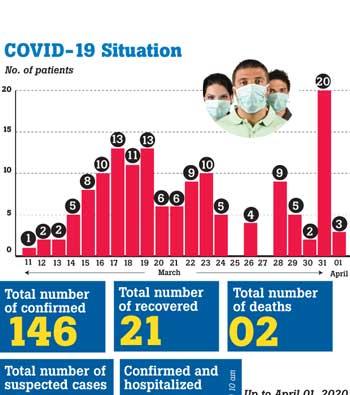 By Sandun A. Jayasekera
While the total number of COVID-19 patients in the country rose to 146 yesterday with the largest number detection of 21 victims in a single day on Tuesday, the National Institute of Infectious Diseases (NIID), the authorities of the premier infections diseases hospital in the country struggled to cope with the increased number of victims as the NIID has only 110 beds.
The Chief Epidemiologist of the NIID, Dr. Eranga Narangoda told Daily Mirror yesterday that the NIID has asked the Mulleriyawa Hospital to allocate two wards with at least 20 beds to accommodate the COVID 19 patients and the Health Ministry was in the process of providing facilities to prepare two wards for patients with viral infections.
Dr. Narangoda said until noon yesterday there were no new entrants of COVID-19 victims to the hospital and added two more patients were released after full recovery, bringing the number of patients recovered to 20.
Altogether four Sri Lankans have died from COVID-19 including two overseas - one in Switzerland and the other in England – with 16 recovered.

The total number of confirmed infections stood at 143 with two deaths by late Tuesday afternoon, in addition to the 20 fully recovered," Dr. Narangoda added.
About 20 families in Pannila in the Beruwala police division had been restricted to move out from their home or entertain visitors in the next 14 days by the Beruwala Police. Meanwhile, Atulugama in the Kalutara District, Kadumayanakulum in Puttalam and Akurana in the Kandy district have been declared isolated areas. No one will be allowed to enter or leave these two villages.

Globally, the US has become the most vulnerable country in terms of the largest number of infections and deaths in the last 24 hours. The rapidly spiraling trend of COVID-19 continued in 200 countries across the world in alarming rate with 42,352 deaths (an increase of 4,509 casualties in 24 hours) by noon yesterday from among 860,696 confirmed cases of viral infections (an increase of 73,709 victims worldwide in a single day).
A total of 4,075 patients had died in the US, Italy recorded 12,428 deaths from 105,792 infected, 8,464 deaths from 95,923 infected in Spain, 775 deaths from 71,808 infected in Germany, in France, 3,516 deaths from 51,487 infected, 2,898 deaths from 44,606 infected in Iran, the UK has recorded 1,808 deaths from 25,150 infected cases and in our neighbouring India there were no deaths from 1,637 patients by noon yesterday.

Meanwhile, in China from where the viral epidemic spread to other countries, only eight had passed away in the 24 hours that ended at 12,00 noon yesterday, making the number of deaths to 3,312 from 3,304 on Tuesday.
Four Lankans have died from COVID-19 including two overseas - one in Switzerland and the other in England – with 16 recovered