---
UNP must understand that it cannot win the presidential election unless it forms an alliance uniting all like-minded parties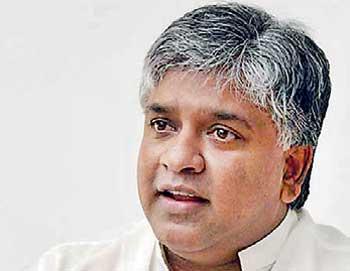 By Sandun A. Jayasekera and Yohan Perera
The Constitution of the proposed National Democratic Front (NDF) – led by the UNP – was to be finalised yesterday and declared within the week, Transport and Civil Aviation Minister Arjuna Ranatunga said yesterday.
He said several rounds of talks were held to resolve the contentious issues and that participants were keen in finishing the job by this week.

Responding to journalists during a news briefing held last morning at Temple Trees, he said if the NDF failed to select the most suitable and winnable candidate for presidency, he would seriously consider whether or not to remain in politics.
He admitted that the delay in naming the NDF candidate would affect the election campaign

"My main concern is not politics or the presidential election but to complete the job I undertook on behalf of the transport and civil aviation sector before the next four months. I am not interested in presidential candidates, but I am for the right person with the most pragmatic programme to develop the country, provide sustainable solutions to the alarming problems faced by the people and to safeguard national security and sovereignty. Almost all minority parties are in agreement with the UNP to form the NDF. The UNP must understand that it cannot win the presidential election unless it forms an alliance uniting all like-minded parties.

"Most of those who were with us in 2015 have forgotten that the common candidate won because several SLFPers supported the United National Democratic Front. This theory applies to the forthcoming presidential poll as well. Electoral success is possible only through the proposed alliance," he said.

In response to a journalist, he admitted that the delay in naming the NDF candidate would affect the election campaign. However, he said, there was more than a month's time to announce the presidential poll.
Almost all minority parties are in agreement with the UNP to form the NDF