---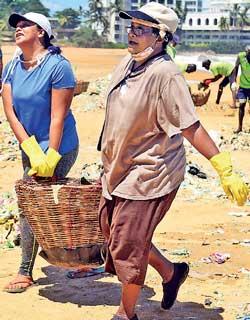 By Kamanthi Wickramasinghe
Days after the Mt. Lavinia Beach made headlines in connection with the beach nourishment project, photos of a polluted beachfront went viral on social media yesterday.
Wana Arana Foundation (WAF) Secretary Thushara Wanasinghe said a large number of single-use plastic waste have accumulated on the Mt. Lavinia Beach since June 4 and we suspect whether it was a deliberate attempt to pollute the beachfront.

He said this at a media briefing organised by the WAF.

"This is the off-season period (Waarakan) and due to the rough currents the only waste that gets washed ashore are empty coconut shells and other biodegradable waste," Mr. Wanasinghe said.

"But when we further investigated this matter, we noticed that the plastic bottles and wrappers had recent manufacturing dates. As such some of them were manufactured in March, April and May. If they had been washed into the canals over a period of time then at least the letters should have faded. But they look new. We suspect that this waste has been washed ashore from Moratuwa and Angulana areas. However, we urge the President to probe this incident and conduct an investigation."

When asked if this pollution was linked to the beach nourishment project, he said there was no evidence to prove such claims. "However, there were no visitors from March until today due to the curfew. Therefore we cannot blame them either," Mr. Wanasinghe said.

The Wana Arana Foundation (WAF) has been appointed by the Colombo Port City Project to conduct beach cleaning activities since January 4 under the Lassana Werala initiative. This is conducted as a corporate social responsibility initiative by the Port City project.
Therefore, the Foundation, together with the Environmental Police and Coast Conservation Department has deployed volunteers to clean the beach stretching from Mt. Lavinia to Wellawatte on a daily basis.
When asked if this pollution was linked to the beach nourishment project, he said there was no evidence to prove such claims. However, there were no visitors from March until today due to the curfew. Therefore we cannot blame them either