---
44,000 Sri Lankans have so far been repatriated from 125 countries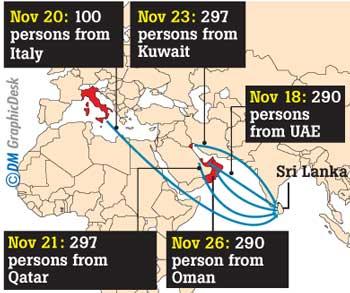 By Piyumi Fonseka
More than 1,000 Sri Lankans including migrant workers, students and pregnant ladies are scheduled to be repatriated in five special flights starting from November 18, Foreign Affairs Ministry told the Daily Mirror yesterday.
Director General East Asia at the Foreign Ministry, Kandeepan Balasubramaniam told the Daily Mirror that the five flights have been scheduled for the month of November as the Sri Lankan government has decided to resume the repatriation process of Sri Lankans stranded abroad due to COVID-19 pandemic.
According to him, the priority is given to compelling cases in distress, including migrant workers/labourers who have been laid off, short term visa holders faced with expiry of visa, people with medical emergency/ pregnant women/elders and students.

The first flight scheduled on November 18 will bring 290 Sri Lankans from the United Arab Emirates. The second flight is scheduled to bring 100 people including Ordinary Level students and their family members from Italy.
The three remaining flights are expected to bring back 297 people from Qatar including most vulnerable persons, 297 from Kuwait and 290 from Oman. All of them will be sent for paid or government quarantine as per the requirements.

According to the ministry, more than 44,000 Sri Lankans have so far been repatriated from 125 countries. It further said 56,000 more Sri Lankans are still waiting to be repatriated.

However, the number of Sri Lankan nationals who died abroad from COVID-19 has increased to 98 and the majority were low-skilled migrant workers in Middle Eastern countries.
Number of Sri Lankan nationals who died abroad from COVID-19 has increased to 98 and the majority were low-skilled migrant workers