---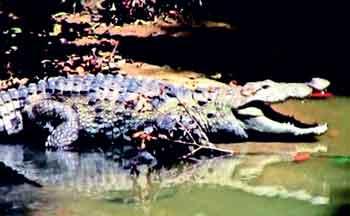 By K.D.Devapriya
Pilgrims to Kataragama and the residents of the area have been warned to be cautious of crocodiles in Menikganja. Basnayake Nilame of the Ruhunu Katargama Maha devala Dilshan Gunasekara said.
He cautioned the people stating that the river was teeming with crocodiles that glided into the river from the tanks and canals in the area.

He said the turbid water in the river was a clear indication that crocodiles were stirring the river bed. Residents of the area said deer, cattle and dogs frequenting river bank had fallen prey to the crocodiles. They said they noticed more than 20 crocodiles near the bathing spots in the river.

The Basnayake Nilame said

that he had informed the Department of Wildlife Conservation in that regard.