---
This project was identified as a strategy to ease tragic along this road in the 1990s. It is essential to complete the entire project as soon as possible as the traffic along Galle Road is increasing daily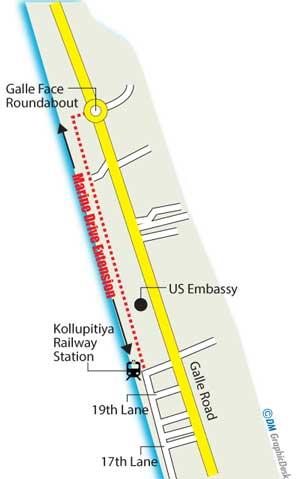 By Yohan Perera
Work on the stretch of the Colombo Marine Drive behind the US Embassy is to begin on January 10, 2021, and will be completed within 60 days, Minister of Highways Johnston Fernando said.
Minister Fernando who was on an inspection tour on the area said the work on this particular stretch was halted for some time because of security reasons.

"We will complete the road from Kollupitiya Station to behind the US Embassy within 50 days and the area which is going over the premises of the Embassy will be completed within 60 days. "We will also expedite the work on the road from Kollupitiya Station to Colombo Fort as well," the Minister said.

"The Government will also focus on extending the marine drive from Wellawatte to Dehiwala and then to Panadura," he added.

"The purpose of Marine Drive was to ease vehicle traffic along Galle Road. This project was identified as a strategy to ease tragic along this road in the 1990s. It is essential to complete the entire project as soon as possible as the traffic along Galle Road is increasing daily," he also said.
The Government will also focus on extending the marine drive from Wellawatte to Dehiwala and then to Panadura