---
The deceased was divorced from her first marriage
She was cut, burnt and dumped into Ma Oya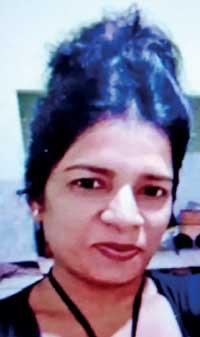 By Pushpakumara Jayarathne
A 35-year-old man, his father and another person suspected of having murdered a 48-year-old spinster, who was living by herself in Millennium City Housing Complex in Kurunegala and dumping her burnt remains into Ma Oya in a gruesome turn of events, had been arrested by the Kurunegala Police Crime Branch officials.
The woman who was murdered on August 17 has been identified as Wijekoon Mudiyanselage Deepika Wijekoon, a resident of Thalgodapitiya in Ibbagamuwa.

Subsequent to a complaint lodged by the sister-in-law of the deceased at Kurunegala Police Headquarters on August 22, investigations into her disappearance were initiated. The deceased who was divorced from her first marriage, had left to the Middle East for a job and after coming back, she had been temporarily living in Millennium City Housing Complex belonging to her elder sister. The house owner was working in Kuwait and the deceased had stayed in her house by herself while taking care of her brother's children who were schooling in Ibbagamuwa. The brother had been in contact with her sister and when he had not heard from her since August 18, had complained to the Police. The Police team in charge of the investigations had called for a report containing the data of her mobile phone and based on that, an unmarried man aged 35 from Polgahawela, Godawela has been arrested.

Police investigations have revealed that the suspect who had returned from Korea after working there for years, had an affair with the deceased for two years. After investigating her mobile phone data, it had been revealed that the last person who she has contacted on August 18 was the suspect.
On a request made by the suspect, the deceased woman had gone to the suspect's house in Polgahawela, Godawela where he was living alone. The suspect has confessed that following a heated argument, he murdered the woman with an axe.

The suspect also confessed before the Police that after informing his father and a relative, he had taken her body in his own vehicle to his home and there had cut her body into pieces and had burnt it completely. The skeletal remains had been thrown in to Ma Oya from Kapuwarala, Alawwa.

Based on his confession, the Police officers had been able to discover several skeletal remains of the woman in Ma Oya.


Along with the suspects, the axe and vehicle used in the murder had been taken into custody. Additionally, the phone charger the deceased had used and a piece of her frock had been discovered.

Polgahawela Acting Magistrate J. M. J. Thennakoon examined the place of murder and the skeletal remains discovered.

On the instructions of the Kurunegala DIG Anil Priyantha and SSP J. M. Y. B. Krishantha and on the guidance of HQI of Kurunegala Kapila Adhikari, a team of Police officers headed by the OIC of the Crime Branch CIP Pushpalal arrested the suspects and would look into further investigations.