---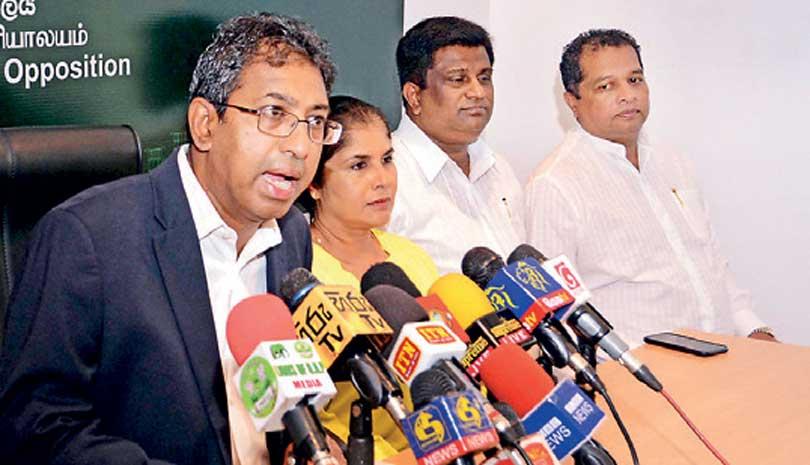 Pic by Pradeep Pathirana
Mr. Wickremesinghe said he had received many phone calls from party members and that 95 per cent of them want him to continue as the leader
By Yohan Perera
While stating that they want a legitimate change of leadership in the UNP, the MPs who are currently lobbying for a change in the party yesterday said they were hopeful that party leader Ranil Wickremesinghe will take a positive step in this regard during the coming days.
Several UNP MPs Harsha De Silva, Harin Fernando, Nalin Bandara Jayamaha, Ajith P. Perera and J.C. Alawathuwala said they were hopeful that Mr. Wickremesinghe will resign from the leadership with dignity and allow Leader of Opposition Sajith Premadasa to take over. Dr. De Silva said Mr. Wickremesinghe had informed he will not contest any national election after 2025 and a change will be made to the UNP leadership by 2023.

" Mr. Wickremesinghe said he had received many phone calls from party members and that 95 per cent of them want him to continue as the leader. He said he would come back to the MPs after meeting Mr. Premadasa and Speaker Karu Jayasuriya during the weekend. Several MPs such as Vajira Abeywardene have insisted that Mr. Wickremesinghe should continue as the leader. Mr. Wickremesinghe and others then walked out of the meeting after arguments. MP Ranjith Madduma Bandara had then proposed that Mr. Premadasa should continue the meeting. when a poll was conducted the majority had wanted a leadership change," Dr. De Silva said.

"Yesterday's Parliamentary group was a battle between two ideas where some MPs wanted a new face to the UNP while others wanted Party leader Wickremesinghe to stay on till 2024," he added.

MP Ajith P. Perera said they expect Mr. Wickremesinghe to resign from the leadership in a dignified manner.