---
former President Sirisena informed me to remove IP Nishantha Silva from conducting investigations

MS denied giving instructions to transfer IP Silva to Negombo police station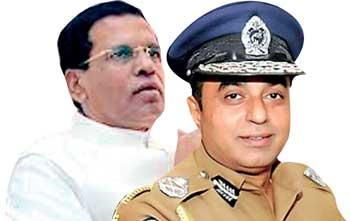 By Yoshitha Perera
Although an independent Police Commission was appointed through the 19th Amendment to the Constitution, former President Maithripala Sirisena had politically interfered with the matters related to transferring of senior Police officers, former IGP Pujith Jayasundara yesterday informed the PCoI probing Easter Sunday attacks.
Testifying before the Commission Mr. Jayasundara said that there were serious matters at National Security Council (NSC) meetings pertaining to the arrest of then Chief of Defence Staff (CDS) Ravindra Wijegunawaradena and certain inquiries conducted by the Police against some Army personnel.

"During an NSC meeting, then CDS lodged a complaint against former CID officer IP Nishantha Silva alleging that the latter was attempting to arrest him arbitrarily. Then former President Sirisena informed me to remove IP Nishantha Silva from conducting investigations," he said.

Mr. Jayasundara said that he had also informed the former President that there were no disciplinary action taken against IP Silva.

"However, after a few days later, former Defence Secretary Hemasiri Fernando informed me that President Sirisena wanted to remove IP Nishantha Silva immediately. Accordingly, I transferred him to Negombo Police station and I even submitted a report to the Police Commission along with the NSC meeting reference," he said.
Fmr. IGP informed former President that there were no disciplinary action taken against IP Silva