---
Prez fed with misinformation by vested interests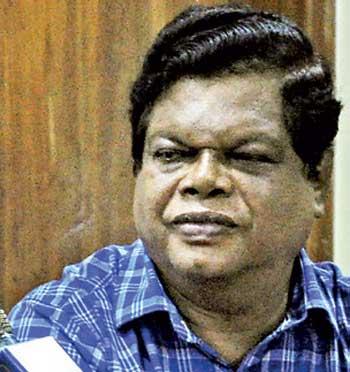 By Lahiru Pothmulla
Responding to allegations made by President Maithripala Sirisena on the Lotus Tower project, Opposition MP Dr. Bandula Gunawardana yesterday urged the President to appoint an independent commission to investigate the matter.
At a news briefing held at the Opposition Leader's Office, he said the President could direct the commission to submit a report within two weeks and take appropriate action based on the report.

"If a Rs.2 billion has been misappropriated by a Chinese company as alleged by the President alleges, the matter should be investigated without delay. We hope the Chinese Government will also assist us in these investigations if such a thing has happened," the MP said.

He said it was the duty and the responsibility of the Chinese Government to clarify the matter by issuing a statement because the President's allegation affects the bilateral relations between Sri Lanka and China.

The MP said it seemed that the President had been misguided and misled by someone with vested interests to target former president and Opposition Leader Mahinda Rajapaksa.

"It is clear that some people have fed the President with wrong information; probably by some group nursing UNP sentiments. The allegation tarnishes the image of the Chinese Government and the Chinese people. That's why it is imperative for the President to probe this matter," he said.

Meanwhile, MP Kanchana Wijesekera said according to the Telecommunications Regulatory Commission (TRC) records, the funds had been paid to only one account since 2012 up to now.

"There is no room for a company to siphon off Rs.2 billion and disappear. The alleged companies, ALIT (Aerospace Long-March International Trading Co) and CEIEC are Subsidiary Companies of the China Aerospace Science and Technology Corporation.

This company is out there in the open and people can find it," he said. "If the Sri Lankan Ambassador to China has told the President that companies cannot be traced, he should be summoned by the Foreign Affairs Ministry and inquired about the wrong information he has give."

The MP said the loss of Rs. 2 billion was not reflected in any of the previous reports issued by the Auditor General's Department or the COPE.
The allegation tarnishes the image of the Chinese Government and the Chinese people. That's why the President duty bound to probe this matter