---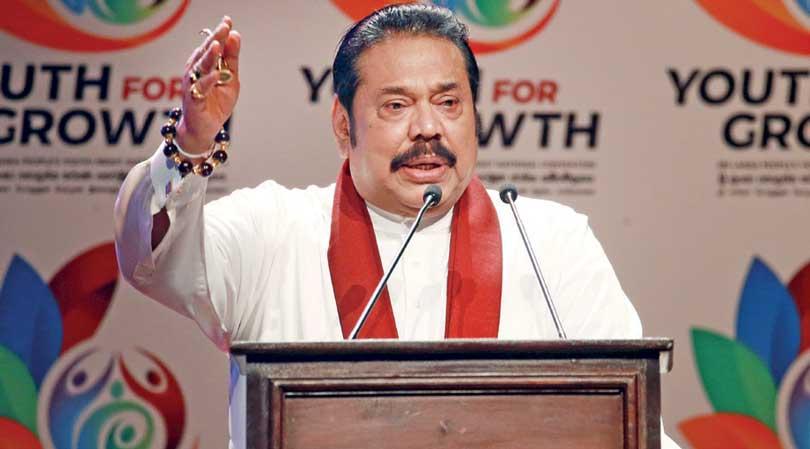 The son, who was devastated and angry, wanted to barge in and save the parents. His parents knew what would happen if the King found out about the son. Therefore, the parents shouted to the crowd, "Son, don't be short-sighted, be foresighted." The son understood what the parents said and did not react. He waited patiently, won the hearts of the people eventually and won the kingdom as well Therefore, I invite the youth of the country to think wisely about what is happening in the country, learn from the history and be foresighted
By Lahiru Pothmulla
Drawing similarities from a Jathaka Katha, Sri Lanka Podujana Peramuna (SLPP) Leader Mahinda Rajapaksa invited the youth to learn from the history and be foresighted instead of short-sighted.
He expressed these views while speaking at the SLPP National Youth Convention held at the Nelum Pokuna Theatre in Colombo
on Saturday.

Mr. Rajapaksa said, according to the Jathaka Katha, an affluent family's son who was away studying saw his parents were being taken to be executed upon his arrival.
"The son, who was devastated and angry, wanted to barge in and save the parents. His parents knew what would happen if the King found out about the son. Therefore, the parents shouted to the crowd, "Son, don't be short-sighted, be foresighted." The son understood what the parents said and did not react. He waited patiently, won the hearts of the people eventually and won the kingdom as well. Therefore, I invite the youth of the country to think wisely about what is happening in the country, learn from the history and be foresighted," he said.

He said leaders like A.E. Gunasinghe and C.W.W. Kannangara made invaluable contributions to the country but were defeated at elections.

"A.E.Gunasinghe campaigned for electoral sovereignty of all, irrespective of social status. Sri Lanka received electoral sovereignty in 1931 but Mr. Gunasinghe was sent home at the next election using that electoral sovereignty. C.W.W. Kannangara struggled hard to make education free for all. There were some in parliament who were against this. However, with the support of progressive MPs of North and South, the Free Education Act was passed in parliament. But in the following election, Mr. Kannangara was defeated. Similarly, Anagarika Dharmapala revived Bodh Gaya among many other notable works of his but some people made him to leave the country. He died in India. This is why the youths need to learn lessons from history. The freedom we ensured in the country was used against us, the computer literacy which we increased was used against us and even the development we did was used against us. The youth should comprehend the gravity of the politics in Sri Lanka without being disappointed," he said.
Leaders like A.E. Gunasinghe and C.W.W. Kannangara made invaluable contributions to the country but were defeated at elections
Anagarika Dharmapala revived Bodh Gaya among many other notable works of his but some people made him to leave the country. He died in India. This is why the youths need to learn lessons from history