---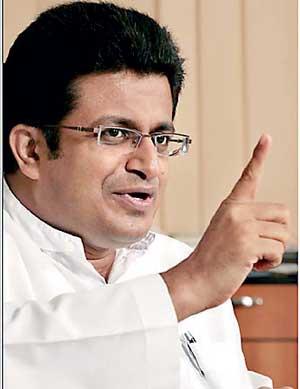 By Thisari Andria Walawege
The court case filed against SLPP presidential candidate Gotabaya Rajapaksa disputing his Sri Lankan citizenship is merely a baseless, politically-motivated exercise driven by Gota-phobia, Pivithuru Hela Urumaya (PHU) leader Udaya Gammanpila told a media conference held yesterday at the party headquarters.
In support of his statement, Mr. Gammanpila produced documents confirming Mr. Rajapaksa's Sri Lankan citizenship and renunciation of his US citizenship. He said the documents were constitutionally-valid.

Referring to a statement made by Minister Rajitha Senaratne regarding the petition, he said allegations levelled against Mr. Rajapaksa had always been baseless and that the government manipulated legislation to prevent Mr. Rajapaksa from contesting the forthcoming presidential election.

Meanwhile, MP Wimal Weerawansa said what the SLPP wanted was to place these matters before the people so they could take a decision. "The UNP is levelling allegations against Gotabaya because it is afraid of facing him," he said.

MP Mahindananda Aluthgamage said the UNP would continue to hide behind the law in a bid to prevent Mr. Rajapaksa from contesting the presidential poll.

"The tele-conversation between former Solicitor General Dilrukshi Dias Wickremasinghe and Avant Garde Chairman Nissanka Senadhipathy proves the political motives on all court cases against Mr. Rajapaksa. The UNP attempts to create uncertainty over Mr. Rajapaksa amongst people. Just like the court cases filed in the past, this case too will be proven baseless. The SLPP does not want to resort to other means of winning this election. We believe we can win the race with Mr. Rajapaksa as the candidate. Nothing can stop him from contesting the election," he said.
The Govt. manipulates legislation to prevent Mr. Rajapaksa from contesting the forthcoming presidential election