---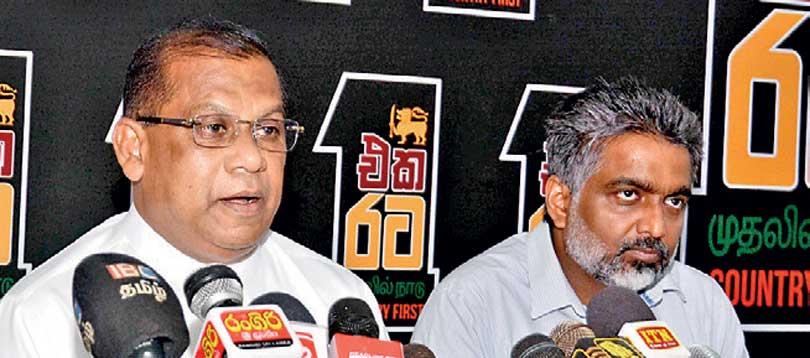 Minister Ranjith Maduuma Bandara and MP Marasinghe seen at the news conference.
Pic By Pradeep Pathirana
By Yohan Perera

Fifty nine United National Front MPs including some senior ministers are expected to hand over a written request to President Maithripala Sirisena on Monday requesting him to appoint Field Marshal Sarath Fonseka as the Minister of Law and Order.
This was announced at a joint news conference held by Public Administration and Disaster Mangement Minister Ranjith Madduma Bandara and MP Ashu Marasinghe last afternoon.
In their letter the MPs have said the country's security had become an important issue today and as such it was vitally important to appoint a full time Law and Order Minister. They said Field Marshal Fonseka was the only government MP who had a sound knowledge and competence on the subject of defence.

Minister Bandara said the government group took this stand because there was a request from the people that a competent person should be in charge of country's security at a crucial time such as this.

He said the government is focusing on bringing normalcy to the country after the Easter Sunday attacks and he appealed to the public servants to report to work. "We have decided not to penalize any public servants for coming late last week as there was a curfew imposed," the minister said.

He said the intelligence services were never diluted and that the defence authorities had done nothing to prevent the bomb attacks despite the prior warnings.

Meanwhile Dr. Marasinghe said the involvement of Eastern Province Governor M.L.A.M Hisbullah in the Sharia University in Batticloa had been confirmed. He said the Governor had signed a request letter which was handed over to the Minister of Higher education during this regime. He said the request was rejected.