---
Two swords were also found by the Police, from the house of Kudu Rohan's wife in Mattakkuliya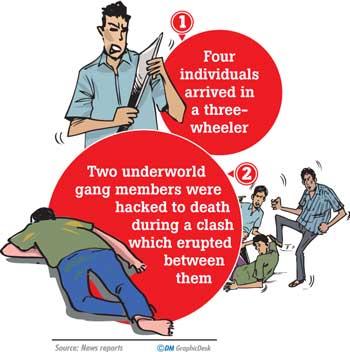 By Sheain Fernandopulle
At least eight suspects had been arrested, out of whom three were remanded until August 23 for their alleged involvement in the killing of two underworld gang members on Thursday, police said.
A gangster known as "Anamalu Ranga" and another were hacked to death during a clash which erupted near the Madampitiya Cemetery in Grandpass on Thursday afternoon.
Police said the suspects were arrested by Special Task Force (STF) personnel.

Three suspects were arrested on Thursday while five more suspects were arrested yesterday while they were fleeing in a three-wheeler.

The three suspects identified as Mohammed Ramlan (19), Sudesh Asanka (18) and Kolitha de Silva (34), who are residents of the Mattakkuliya area were remanded after being produced before the Hultsdorp Magistrate's Court

Police identified Kolitha de Silva alias 'Aja' as the younger brother of Kudu Rohan. Two swords were also found by the Police, from the house of Kudu Rohan's wife in Mattakkuliya.
A three-wheeler found abandoned near the cemetery, which was allegedly used by the suspects was also seized by the police.

Investigations revealed that the three-wheeler belonged to the wife of underworld figure 'Kudu Rohan' whoa re both in prison now.