---
8 close contacts of Kandakadu Treatment and Rehabilitation Centre patients found yesterday

More than 130,000 PCR tests done so far

Covid-19 cases stand at 2,687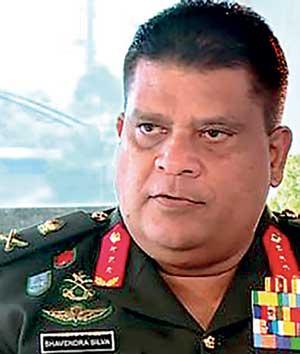 By Sheain Fernandopulle
While stressing that the Covid-19 situation at the Kandakadu Treatment and Rehabilitation Centre (KTRC) has now been brought under control, Army Commander Shavendra Silva yesterday insisted on the need to wear face masks when going outdoors.
"Some 533 coronavirus infected persons have been so far reported from the Kandakadu cluster of which 444 are inmates, 64 are staff members including counsellors and 25 are contacts of original patients," the Army Commander said.

He said all the people, who had maintained links with Covid-19 patients had been placed under quarantine and the health authorities continued to carry out PCR tests.

The Army Commander said there was no risk of a second wave of the virus at this juncture where the prevailing active cluster at Kandakadu had come under control and added it had been confined to selected areas. Meanwhile, he said nine cases were reported on Wednesday, of which eight were returnees from foreign countries and one was from the Kandakadu cluster.

The total number of Covid-19 cases in Sri Lanka stood at 2,687 with 13 new cases - close contacts of KTRC patients - found yesterday, while 2,007 patients had recovered and discharged from hospitals.

Director General of Health Services Dr. Anil Jasinghe said more than 130,000 Polymerase Chain Reaction (PCR) tests had been performed so far to identify COVID-19 patients in Sri Lanka .

According to the Health Promotion Bureau, 130,390 PCR tests have been conducted so far while 2,470 PCR tests have been conducted on Wednesday alone.
And also, 113 people in Piliyandala were subjected to PCR yesterday after they were identified as close contacts of an army officer, who tested positive for Covid-19 at the Kandakadu Treatment and Rehabilitation Centre.
533 coronavirus infected persons have been so far reported
people, who had maintained links with Covid-19 patients had been placed under quarantine