---
The number of positive cases from Kandakadu rapidly reducing
41 Homagama police personnel sent on quarantine
Covid-19 cases in Sri Lanka stands at 2,687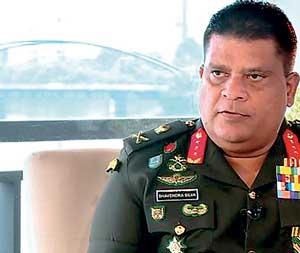 By Sheain Fernandopulle
Nearly 368 people including family members, who had maintained links with COVID-19 patients at the Kandakadu Drug Rehabilitation Centre have tested negative for the virus, Army Commander Shavendra Silva said yesterday.
"The 114 people, who had visited the inmates at the Centre and their family members, have tested negative for COVID-19," he said and added that 205 family members of military personnel, who underwent quarantine, were released yesterday.

Our provincial correspondent said thirty police personnel attached to the ASP's office and 11 personnel attached to the Homagama Police Station were among those sent on quarantine.

The infected sergeant was identified as the mother of the army officer attached to the Kandakadu Drug Rehabilitation Centre, who was tested positive for COVID-19.

Meanwhile, Epidemiology Unit said the total COVID-19 cases in Sri Lanka stood at 2,687 as of 6.00 p.m. yesterday with those who had recovered amounting to 2,012 while there were 664 active cases.
---

Box -- Numbers at Kandakadu gradually reducing

Meanwhile, Chief Epidemiologist Dr. Sudath Samaraweera said the number of positive cases from the Kandakadu cluster was rapidly reducing despite 540 cases being reported from the cluster so far.

He stressed the need to adhere to health guidelines though the virus had not yet transmitted into society from the Kandakadu Drug Rehabilitation Centre.

Dr. Samaraweera said they were conducting random PCR tests in the community apart from PCR testing in high risk areas to make sure the virus had not spread to community level.

We have noticed that people neglecting health guidelines like wearing masks and maintaining physical distancing at public gatherings. Hence, we reiterate the importance of adhering to the health guidelines properly.

Commenting on reopening of schools, Dr Samaraweera said it was safer to reopen schools once the situation returned to normal though there was a less tendency for children to be infected with the virus.

At least 41 police personnel attached to the Homagama Police were sent on quarantine yesterday after a female police sergeant attached to the ASP'soffice of the Homagama Police Division tested positive for COVID-19.