---
By Sandun A Jayasekera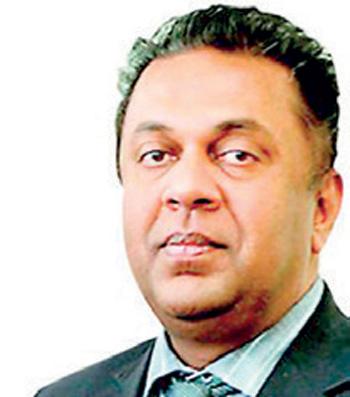 The disinformation, misinformation, fabrication and absolute lies spread by the joint opposition on three highly beneficial proposed agreements to Sri Lanka to be signed with the US are derived on sheer jealousy, political hypocrisy and vengeance, Finance Minister Mangala Samaraweera said yesterday.
The Status Of Force Agreement (SOFA), Acquisition and Cross Servicing Agreement (ACSA) and the Millennium Challenge Cooperation (MCC) are not new to Sri Lanka but for the political ghosts (avatar) in the JO, the problem is that this government has renewed these agreements with added benefits which the previous regimes failed to obtain and the friendship, cooperation and good name earned by this government among the global community and in particular with the US, EU and other developed countries, Minister Samaraweera charged. Addressing a news briefing at his Ministry last afternoon, Minister Samaraweera said the ACSA was signed in 2007 for ten years when Gotabhaya Rajapaksa was the Defence Secretary and Robert Blake was the US envoy in Sri Lanka.
The MCC agreement was signed in 2004 when late Lakshman Kadirgamar was serving as the Foreign Minister and SOFA in 1997. In 2017, the ACSA was renewed after ten years. "No one uttered a word when these agreements were first signed. The JO is afraid and envious as these agreements are a blessing to Sri Lanka economically as it will improve technology and generate employment and infrastructure,"he added. "It is completely false, malicious and mischievous to say that the US and the EU would invade Sri Lanka and establish bases of the US Army under conditions of these agreements. These fake news are spread with the aim of denying Sri Lanka's victories gained in international forums and hoodwink the public," Minister Samaraweera said.
Referring to the comments that had been made by JO members that the ACSA and SOFA are bulky documents containing new conditions, Minister Samaraweera said those are addendums that explain the services obtained mutually by both countries and areas of cooperation between the two countries. Nothing about setting up of US camps or acquiring of lands or other state assets of Sri Lanka as suggested by the JO. Late US President George Bush wanted to help emerging democracies and introduced the MCC. When Prime Minister Ranil Wickremesinghe met him in 2003, he pledged support through MCC and offer a grant to Sri Lanka but it was not materialized after the collapse of the government. When Mahinda Rajapaksa came to power in 2005, he appointed me as the Foreign Minister and advised me to renegotiate the MCC.
I went to US in January 2005 and met State Secretary Condoleezza Rice and discussed getting of the MCC assistance to Sri Lanka. Former Central Bank governor Nivard Cabraal acted as the coordinator at these talks. When President Mahinda Rajapaksa went to New York to attend the UG General Assembly, he signed the MCC agreement with President Bush. But, by September 2006, the state sponsored terrorism took root in Sri Lanka with white van culture, abductions, killing and harassment on journalists etc. and the US suspended MCC on Sri Lanka after State Secretary Rice protested to these suppressions and murders.
This government was to sign the MCC agreement on December 17, 2018 but failed as a result of unconstitutional removal of Prime Minister Wickremesinghe and illegal formation of the MR government. What the JO cannot stand is the signing of the MCC agreement they could not do. Through the MCC Sri Lanka is to get a grant of US$ 480 million and to use it for various development projects such as road development, purchasing new buses, resolution of land disputes, improvement of Lands Registry etc and another US$ 100 million in the pipeline. So it is understandable that the JO is jolted and attempts to create a fear psychosis among the public with the hope to deny them these benefits, Minister Samaraweera added and asked whether leaders like Indian Prime Minister Narendra Modi, Malaysian PM Mahathir Mohamed or Singapore Premier Lee Hsien Loong are such inconsiderate to accept ACSA and SOFA agreements. PICS BY DAMITH WICKRAMASINGHA.