---
Ramayanaya says bridge was built by 'Vanara army' to rescue Sita from Ravana
The restoration project carried out by the Government of India at the Temple was executed on a grant basis at a cost of Rs. 326 million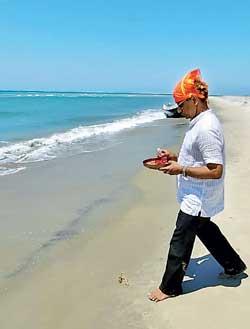 High Commissioner Gopal Baglay who commenced his four-day visit to Northern and Eastern Provinces of Sri Lanka on March 11, 2021, prayed at Ramsethu (Adam's bridge) – a connecting bridge that is said to have existed between India and Sri Lanka several centuries ago, a statement from the Indian High Commission said.
Ram Setu is a chain of limestone shoals between the coasts of India and Sri Lanka. According to the epic, Ramayana, the bridge was built by the 'Vanara army' to rescue Sita kidnapped by Ravana.

He started his visit by attending Shivratri Pooja at the sacred Thiruketeeswaram Temple. After offering prayers at the Temple, the High Commissioner reviewed the restoration project that was carried out by the Government of India at the Temple. It would be recalled that this project was executed on a grant basis at a cost of Rs. 326 million.

He laid the Foundation Stone for the construction of 144 transit housing units for pilgrims at the Shrine of Our Lady of Madhu in Mannar along with Prasanna Ranatunga, Minister of Tourism in the presence of Most Rev. Dr. Emmanuel Fernando , Bishop of Mannar, and three Members of Parliament - Selvam Adaikkalanathan, K. Kader Masthan and Kulasingam Dhileeban. These housing units will be built with grant assistance from India at a cost of around SLR 300 million.

The High Commissioner held a luncheon meeting with P.S.M. Charles, Governor of Northern Province and others from the Province.

They had a comprehensive discussions on deeper engagement in the fields of education, skill development, health, agriculture, water and fishing.

The High Commissioner also attended a dinner hosted by Mr. S. Balachandran, Consul General of India in Jaffna.
He interacted with prominent dignitaries from political, economic, academic, social and cultural spheres. Focused discussions at the dinner put emphasis on cooperation for development of Northern Province through increased investment and assistance from India.

The Government of India has a long history of carrying out development projects in diverse sectors including livelihood, health, education, industrial development in the Northern and Eastern Provinces.
Discussions at the dinner put emphasis on cooperation for development of Northern Province through increased investment and assistance from India