---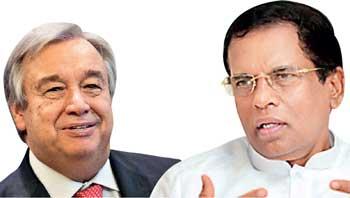 President Maithripala Sirisena said yesterday he had spoken to United Nations Secretary-General António Guterres over the phone and explained why he decided to implement the death penalty in Sri Lanka.
He said this at an event held at the Lankapura Maha Vidyalaya in Polonnaruwa yesterday.

President said on June 26 he signed the documents for the execution of four big-time drug offenders currently in death row.

He said the death penalty should be implemented to protect the nation and the future generations.

"The life of schoolchildren, university students and the youth are at risk because of the proliferation of drug trafficking. If we are to protect them, the death penalty should be carried out against drug traffickers," the President said. "I consider those opposed to this move as people who are aiding and abetting the drug traffickers."