---
Online money lenders had used the Coronavirus pandemic as their best opportunity to victimise many people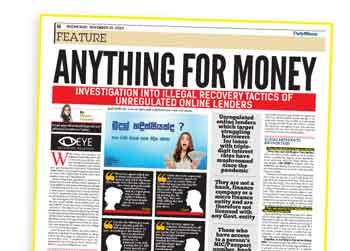 By Piyumi Fonseka
Many online money lenders are remotely taking control of phones of those unable to repay loans, misusing personal and confidential data of the borrowers, threatening to leak photos, shaming them among all their contacts, spamming them with calls and texts, an investigation titled 'Anything for Money' by Daily Mirror Eye revealed.
Over the past few weeks, the Daily Mirror gathered similar complaints from individuals, accusing on-line lending apps of malicious ways of recovering dues. Complainants said the harassment and shaming began when they failed to pay their balances on time.

Operating through social media and mobile-based applications, the online money lenders had used the Coronavirus pandemic as their best opportunity to victimise many people who approached them when they were desperate for the money and opted to overlook warnings.