---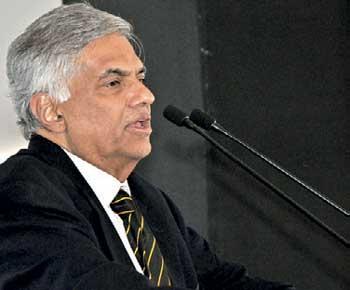 By Yohan Perera
Prime Minister Ranil Wickremesinghe said yesterday the UNF-led alliance would continue constitutional reforms under its candidate Sajith Premadasa if he were elected to office next month.
The premier said this during a meeting with the Civil Society and Trade Union Collective held yesterday at New Town Hall.

"We are committed to devise a new Constitution this time. We will continue with constitutional reforms. Every one of us has fielded UNP Deputy Leader Sajith Premadasa for this purpose. We have to maintain the freedom we won in 2015. We might lose it if another candidate comes to power. We should try to achieve which we could not during the last five years. We have to legalise new rights which have been recognised as fundamental by today's world," he said.

He recalled that the UNF among others fielded incumbent President Maithripala Sirisena and got him elected to office in 2015, but that the UNF got only a minority government in August that year.

"This minority government did more work than a government which had a two-thirds majority in the past. We have respected the sanctity of life. Unlike in the past, a person can be prosecuted only through the judiciary today. This is our first achievement. There are no white vans now. We created a Cabinet that is responsible to the country. We limited the powers enjoyed by the President and established independent commissions. Freedom is being safeguarded through independent commissions. We have maintained the independence of the public service and the Auditor General. Judiciary delivers judgments without any fear today. None can say the judiciary is biased," he said.