---
Crimes and Organised Crime Division has launched an investigation to arrest a man who pretended to be a doctor, an engineer, a teacher and a businessman to commit frauds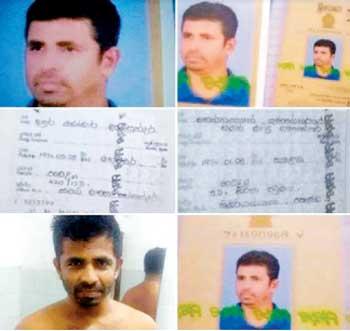 By Darshana Sanjeewa Balasuriya
Inspector General of Police (IGP) C. D. Wickramaratne has approved a reward of Rs. 1 million for information leading to the arrest of a suspect who was involved in frauds in various parts of the country and absconding arrest.
Police said Crimes and Organised Crime Division has launched an investigation to arrest a man who pretended to be a doctor, an engineer, a teacher and a businessman to commit frauds in various parts of the country.
Accordingly, he was wanted over selling a stolen vehicle for Rs. 16.5 million by pretending to be a doctor, forging to obtain a vehicle worth Rs.15.5 million, fraudulently obtaining a car worth Rs. 2.8 million and stealing a van worth Rs. 3 million.

Police urged the public to be vigilant so that no one falls prey to further fraudulent activities of the suspect in the future.

Police sought public assistance to arrest this suspect, Rafiq Mohamed Farooq (761350446v) who has residencies at No. 122/15 / B, Suhada Mawatha, Mankada Road in Kadawatha, No. 133/05, Namal Terrence in Wattiyagoda and No. 89/03, Rajamawatha, Kanuwana in Ja-Ela.

Police released a photograph of the suspect and the police request the public to inform the following telephone number if there is any information about the suspect, DIG of Crime and Organised Crime Division via 071 8592604 or DIG Office of Crime and Organised Crime Division 011 2685958.
Police sought public assistance to arrest this suspect, Rafiq Mohamed Farooq (761350446v)