---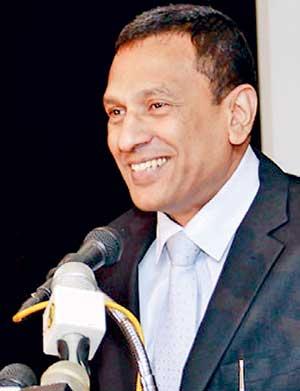 By Susitha Fernando
Former Solicitor General (SG) and Chairman of the Sri Lanka National Authority for the Protection of Witnesses and Victims, Suhada Gamlath reiterated that he spoke the truth and claimed that telling the truth had been construed as politics.
He was responding to Justice Minister Thalatha Athukorala, who said he has talked politics while holding a position in the public service.
"If telling truth is construed as politics what is the use of living in this country," Mr. Gamlath asked.

He insisted that he would not resign from his position as the head of the National Authority for the Protection of Witnesses and Victims but that he would wait until any action was taken against him.
"When these people were making a fuss about this matter, I informed the Secretary to the President that I may resign. But reading what another lawyer told a state-run newspaper that I should resign forthwith I decided not to do so. They cannot remove me with that kind of pressure," Mr. Gamlath said. "Let them remove me."
He said he was reappointed as the President of the National Authority this month on the recommendation of Minister Athukorala herself.

"If they want to remove me they can do so. That is perfectly alright. But I have done my duty. If my removal is based on my statement, I really don't know what is political in it. I have said the truth, the absolute truth of what is happening in this country. If saying the truth is construed as talking politics well then we have to fine another country to settle down," Mr. Gamlath said.

Referring to an earlier controversial telephone conversation by former Solicitor General Dilrukshi Dias Wickramasinghe, Mr. Gamlath said, "My statement is a sequel to what the other SG said. She has said that she was pressured by politicians to act in that manner and I endorse that view. That is what happened to me also. This is not talking politics. This is the reality that exists in the government service of this country," he said.
Mr. Gamlath said he took over the National Authority for the Protection of Witnesses and Victims when it had become dysfunctional after its previous chairman quit within one year.
"This authority was set up in 2016 and then a board of directors was appointed. The chairman couldn't function for more than one year and he abandoned it. There was a lull without a chairman and the work came to a grinding halt. During this period I was left in the lurch at the Attorney General's Department without being assigned any work by the then AG Jayantha Jayasuriya and as Solicitor General I was not allowed to do substantial work for some time," he said. "During that period I was told that this authority was not functional and I told Mr. Wijayadasa Rajapaksa to hand it over to me and I will see whether I could do something as a service to the country. In my view within the matter of one and half years I have done a lot to bring it up to this level."

Mr. Gamlath said there were lot of defects in the law and that he did what he could to rectify them. He said Minister Athukorala had appointed him to draft a law on children who were victims of crimes and witnesses. "I am spending lot of time drafting that as well. I have been asked to draft the whistle-blowers law and I am working on it as well. I am doing this work on a voluntary basis. I am doing this because I want to serve my country," he said.
If they want to remove me they can do so. That is perfectly alright. But I have done my duty. If my removal is based on my statement, I really don't know what is political in it