---
After few months of becoming the president we continued peace talks while terminating the war
We exchanged 42 letters. I still possess them and we will make them public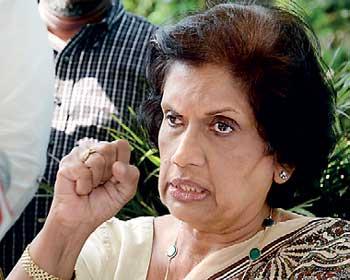 By Romesh Madhushanka
Former president Chandrika Bandaranaike Kumaratunga said yesterday that after being elected president, she had exchanged 42 letters on various matters of peace with the LTTE leader Prabhakaran and that she would make them public in the future.
She said this at an election rally of Sajith Premadasa at the Veerasingam hall in Jaffna.

"After few months of becoming the president we continued peace talks while terminating the war, of how to resolve this problem but, after eight months again the war started. During the wars and during the peace talks I wrote letters to him. We exchanged 42 letters. I still possess them and we will make them public," she said.
After few months of becoming the president we continued peace talks of how to resolve this problem but after eight months again the war started. During the war and during the peace talks I wrote letters to him. We exchanged 42 letters