---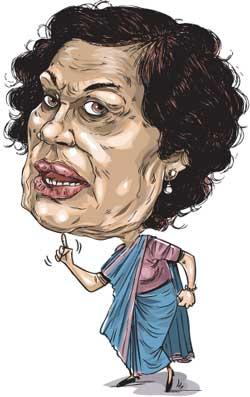 By Ajith Siriwardana
Former President and incumbent Patron of the Sri Lanka Freedom Party (SLFP) Chandrika Bandaranaike Kumaratunga said she regretted the fate of the SLFP, which was formed by her father, late Prime Minister S.W.R.D. Bandaranaike and later strengthened by her mother Sirimavo Bandaranaike.
"Sometimes, I think I am also responsible for what has happened to the SLFP today. It is not because of what I did, but because of what I did not do. I strengthened the SLFP that lost for 17 years and brought it to power. The SLFP was able to remain in power for 23 consecutive years because of the way we ruled the country," she said.

She made these comments yesterday while making a special statement on the 69th anniversary of the SLFP.

She said she returned to politics in 2015 after being forced by many people and groups including late Ven. Maduluwawe Sobhitha Thera thinking that she would be able to put an end to the destruction of the country and the SLFP at that time. "Many people allege that I joined the United National Party (UNP). But in 2015, we formed a massive alliance with a large number of civil society organisations and a number of other Tamil and Muslim parties.
Sometimes, I think I am also responsible for what has happened to the SLFP today