---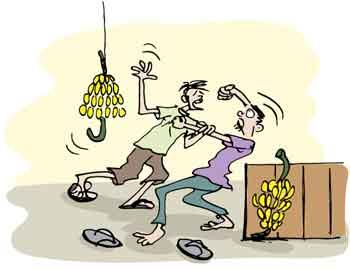 By Pushpakumara Jayaratne
An employee of a wayside hotel near the Kurunegala bus stand was stabbed to death with a broken bottle by a customer during an altercation with him over the price of a banana.
The customer who wanted to eat a banana had run amok when he was quoted the price of the fruit and stabbed the hotel employee with a broken bottle. When the customer asked the price of a comb of banana, the hotel employee had told him that one plantain was Rs.30. The suspect was taken into custody by the Kurunegala police. Police
said the suspect had been under the influence of liquor at the time of the incident.