---
Take plenty of fluids and remain indoors or in the shade as much as possible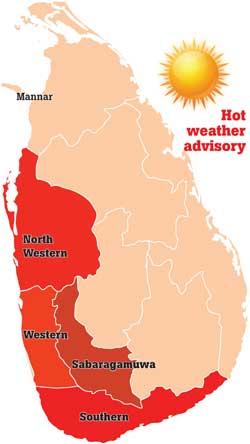 By Chaturanga Samarawickrama
The Department of Meteorology yesterday issued a hot weather advisory to 11 districts including the North-Western, Western, Southern and Sabaragamuwa Provinces and Mannar warning people to be extremely cautious.
It asked people to take plenty of fluids, take breaks and remain in the shade as often as possible and advised those caring for the elderly and the sick who are indoors to take extra precautions and not leave children unattended.

The advisory identified Mannar, Puttalam, Kurunegala, Gampaha, Kegalle, Colombo, Kalutara, Ratnapura, Galle, Matara and Hambantota as regions that need to remain extremely cautious during the hot weather.

The Met Department asked those living in these regions to avoid venturing outside during the next few days, particularly in the morning because of heat strokes, cramps and heat exhaustion that could occur if proper precautions were not taken.