---

It was Ms. Premadasa who proposed that I should lead the Colombo branch SJB women's wing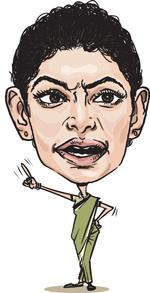 By Yohan Perera
Samagi Jana Balawegaya (SJB) candidate Hirunika Premachandra yesterday said she has no confrontation whatsoever with Jalani Premadasa, the wife of SJB Leader Sajith Premadasa.
Ms. Premachandra said she had not been sidelined by Ms. Premadasa but was given a prominent place in the SJB women's wing. " It was Ms. Premadasa who proposed that I should lead the Colombo branch SJB women's wing," she said.

"I was never chased by her, though some claimed it was the case after a video clip started circulating in social media and mainstream electronic media. Ms. Premadasa only informed that a special seat was allocated for me at the SJB women's wing launch. I gave a speech as well at the event," she said.

Referring to a question raised by the journalists about the SJB colour, Ms. Premachandra said it is green and yellow obviously.
It was Ms. Premadasa who proposed that I should lead the Colombo branch SJB women's wing