---
A concept paper outlining a mechanism on how all political parties should work together, should be prepared
The major issues which the country faced today was a need for a proper vaccination programme
Younger MPs should be allowed to play a greater role in it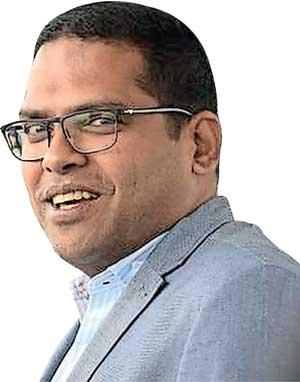 By Yohan Perera
SJB MP Harin Fernando, after a long spell of silence yesterday called for a joint mechanism of all political parties for a period of ten years to see Sri Lanka through the present crisis.
Speaking during a webinar, Mr. Fernando said a concept paper outlining a mechanism on how all political parties should work together, should be prepared.
"We should design this mechanism to govern the nation for a period of ten years and see that younger MPs are allowed to play a greater role in it. The concept paper should be a detailed one which outlines how the nation should face the post COVID period," Mr. Fernando said.
"This is my personal concept and not that of my party," he added.
He said one of the major issues which the country faced today was a need for a proper vaccination programme. "We should come up with a proper vaccine programme," he said.
Also he said medical experts should be given a greater representation in any committee which was formed to face the current pandemic. "It is important to determine where security forces should come in and they should be assigned to do only what they could do. " COVID- 19 pandemic is a war but it is not a war that could be fought with guns," he said.
Referring to the expected move by the government to control social media, the MP said introducing a new social media platform would be a better choice rather than controlling or banning social media. "Even the previous government banned social media for a brief period and I opposed it then in the Cabinet as the Minister in charge of digital technology.

" Education of school children is affected by the pandemic situation. However it would have not been the same if the Goole Loon programme had been implemented," he said.

-It is important to determine where security forces should come in and they should be assigned to do only what they could do