---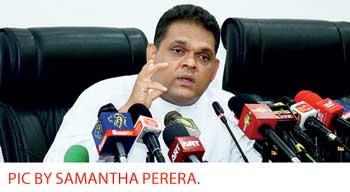 By Sandun A Jayasekera
The government says it will not sign the Millennium Challenge Corporation (MCC) deal as it is but will only consider it if the expert committee led by Prof. Lalithasiri Gunaruwan recommends amendments to ensure the agreement does not pose any threat.
State Finance Minister Shehan Semasinghe said that under no circumstances, would the government agree to the politically motivated conditions contained in the draft of the MCC agreement despite the fact that the previous government accepted it into at the tail end of its tenure. Addressing a hurriedly convened news briefing at the Finance Ministry, Minister Semasinghe said the SLPP never said that a government led by President Gotabaya Rajapaksa would never sign the MCC.

"Not President Rajapaksa, Prime Minister Mahinda Rajapaksa or any other top leader of the SLPP said that we are fully opposed to the MCC. What they said was that we would not sign it with the current conditions and wanted to revisit it. The SLPP or the government's policy is to revisit not only the MCC but ACSA and SOFA agreements also before taking a decision on the three agreements," Minister Semasinghe stressed.
Commenting on the agreement signed by the government to lease out a plot of land with the extent three acres at the Galle face to Perennial Realities for US$ 250 million, Minister Semasinghe said it was not a sell out in anyway as the UNP led opposition tries to make out but a leasing of the land.

"The negotiations were initiated by the yahapalana government in 2014 but failed whe various issues cropped up. We signed the lease agreement on extremely beneficial terms and USD 250 million is a direct foreign investment," he added. Minister Semasinghe emphasized that President Rajapaksa or Prime Minister Mahinda Rajapaksa would not have agreed to the leasing of the land if it is detrimental to the national interests. Besides, the US4 250 million is extremely necessary to improve Sri Lanka's asset base. Minister Semasinghe charged that the previous government has sent the country and the economy down a precipice with its unrestricted commercial loans with high interest rates and have invested borrowed money in unproductive projects with no returns. The national economy is facing the repercussions of the shortsighted policies of the UNP led government today.

"People would not accept the fabrications and canard spread by the opposition rejected by the people at two elections. The government has taken a series of relief measures for the people in the first month since President Rajapaksa was elected as the President but the full benefits could be enjoyed after the parliamentary election under SLPP government," he added.