---
SLFP confident that proposed changes would be incorporated at committee stage
We are confident that our proposals to 20A would be incorporated during the committee stage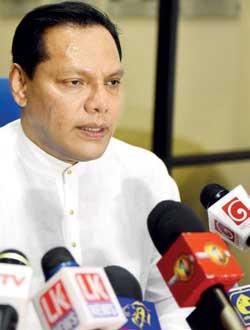 By Sandun A. Jayasekera
General Secretary of the SLFP, State Minister Dayasiri Jayasekara said the government intends to pass the 20th Amendment to the Constitution at the next session of Parliament commencing next Tuesday (20) and the SLFP was confident that the changes proposed by the SLFP expert committee would be incorporated at the committee stage.
He added that the Government did not have much time before the passage of the Constitutional Amendments because the budget 2021 was also scheduled to be presented in Parliament on November 17.

Minister Jayasekara said a ten-member committee was appointed by the SLFP politburo led by Minister Nimal Siripala De Silva and the report with the party's recommendations had been forwarded to President Gotabaya Rajapaksa and Prime Minister Mahinda Rajapaksa.

"We discussed the SLFP's report with the President and Prime Minister in detail. We are confident that our proposals to the 20th Amendment to the Constitution would be incorporated during the committee stage at the debate," Minister Jayasekara said.

"The expert committee report has been prepared with the huge mandate given to President Rajapaksa and the SLPP government at two elections. As such the government cannot ignore the pledges given to 6.9 million people. Whatever the legislative measures introduced by the SLPP government, the SLFP therefore expects to support them," he added.
The Government did not have much time before the passage of the Constitutional Amendments because the budget 2021 was also scheduled to be presented in Parliament on November 17