---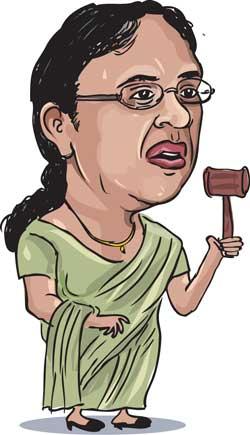 By Sandun A. Jayasekera
The government has decided to enhance penalties on 73 offences in the penal code to fit today's requirements and Cabinet nod has been given last week for a memo submitted by Justice and Prison Reforms Minister Thalatha Atukorale in this regard.
Accordingly, amendments will be introduced to the penal code to increase fines that have been imposed during the British colonial rule.

"Nominal fines being imposed by magistrate's court for various offences under existing laws have not shown any deterrent effect. The amendments to be introduced with enhanced fines will act as a restraint for these unlawful acts," a spokesman of the Justice and Prison Reforms Ministry said.

Under the latest amendments to the penal code, the current fine of Rs.1,000 will be increased to Rs.15,000 for failing to appear before the magistrate on the given date of a suspect released by the OIC of a police station. The fine for causing or encouraging the seduction, prostitution or unlawful carnal knowledge of a girl by a person having such girl's custody, charge or care will be increased to Rs.500,000 from current Rs.100. The punishment for knowingly assisting or inducing a girl to escape from the person or society under whose custody she has been delivered to court will be increased to Rs.500,000 from Rs.100. The new fine for obstructing a public officer in performing his or her duties will be Rs.100,000 from the earlier fine of Rs.30.

The fine for behaving riotously or in a disorderly manner in a public street will be enhanced to Rs.50,000 from Rs.5, while the new fine for rogues and vagabonds will be Rs.60,000 from the old fine of Rs.20.