---
amending the vote on account to meet today's requirements are important steps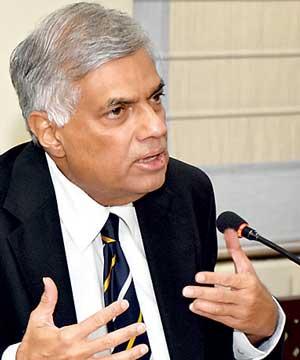 By Yohan Perera

It is important for the government to take more effective steps to safeguard the country's economy, former Prime Minister Ranil Wickremesinghe said yesterday.
"The measures taken by the Central Bank is not sufficient to safeguard the economy at this decisive moment. People have already been affected by COVID-19 virus. They should not be allowed to be affected by the economic virus" the statement from him said.

"It is important to safeguard the country's banking sector, food production, and to continue with the importation of essential items such as medical equipment and medicine. The government servants are being paid their salaries. However, private-sector workers are going into a crisis as it is becoming impossible for many companies to pay salaries to their employees," he said.

Safeguarding the banking sector while maintaining the country's food production, maintaining import of essential food items, seeking assistance from the IMF which will come up with some plans for the countries this month, and amending the vote on account to meet today's requirements are important steps which the government should take at this moment. Also he said the government should work on the step it has taken to make a monthly payment of Rs. 5,000 for a period as it is a base to increase money circulation in the economy.