---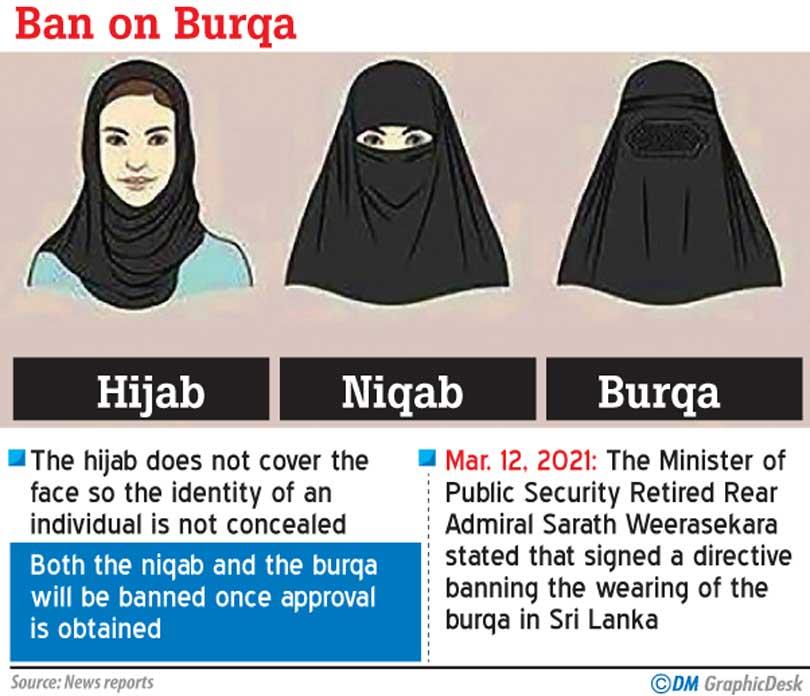 Decision taken in view of national security
No resistance towards any religion
Suggestion initially proposed by former govt., says minister
By JAMILA HUSAIN
The proposal to ban face coverings, such as the burqa and niqab, worn by Muslim women is for national security purposes and not because of any resistance towards the Islam religion, Public Security Minister Sarath Weerasekera told the Daily Mirror last evening.
Following the weekly cabinet meeting with President Gotabaya Rajapaksa, Rear Admiral (Rtd.) Weerasekara said that the proposal to ban the face coverings had not been submitted to cabinet last evening but it would subsequently be presented during which time the cabinet would make a decision.
He further said that the proposal to ban the face coverings was proposed by the former government, soon after the Easter Sunday terror attacks in 2019, and not by the present Rajapaksa regime.

"What we want to inform the public is that soon after the Easter attacks in 2019, the previous government appointed the parliament select committee which included some leading Muslim Ministers as well. It was they who had recommended the banning of the burqa and the Madrasa schools. This is not what our government has done," Dr. Weerasekara said.

In the cabinet proposal which will be presented soon, Weerasekara said it proposed to ban all types of face coverings, which was a threat to national security but head coverings would be allowed.

"Clearly I want to say that this is a proposed ban on the face covering in view of national security. It has nothing to do with the religion," the Minister said.

The government's proposed ban on the burqa and niqab has hit international headlines since the weekend with mixed concerns being raised by some activists who have questioned the timing of the proposed ban.